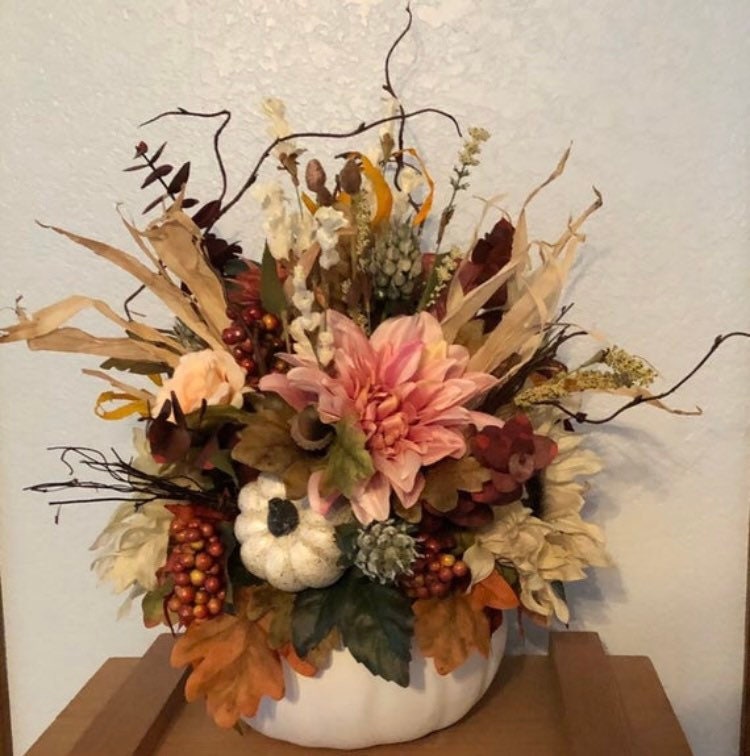 Beautiful fall centerpiece. Perfect table centerpiece for September through Thanksgiving. Nice neutral colors to match any decor. 7" ceramic white pumpkin. Exact stems might change due to the availability. But the overall color and style will remain the same.
Payments
Paypal & Etsy gift card
Shipping from United States
buyers choice- available: USPS, UPS, Fed-ex. Most packages ship USPS Priority.
Refunds
100% quality guaranteed. Any problems handled immediately.
Additional
I have had a cotton boll boutonniere featured in Southern Weddings Magazine V3. I was a featured Christmas jewelry artist at 7 Nordstroms stores in the Northwest for 5 years. I have had a bouquet choosen and written up on U-Bloom a trade website for florists. I have also worked in visual display & retail sales @ a few major department stores.
This centerpiece is absolutely BEAUTIFUL !!!!!!!! I would order from this vendor again.