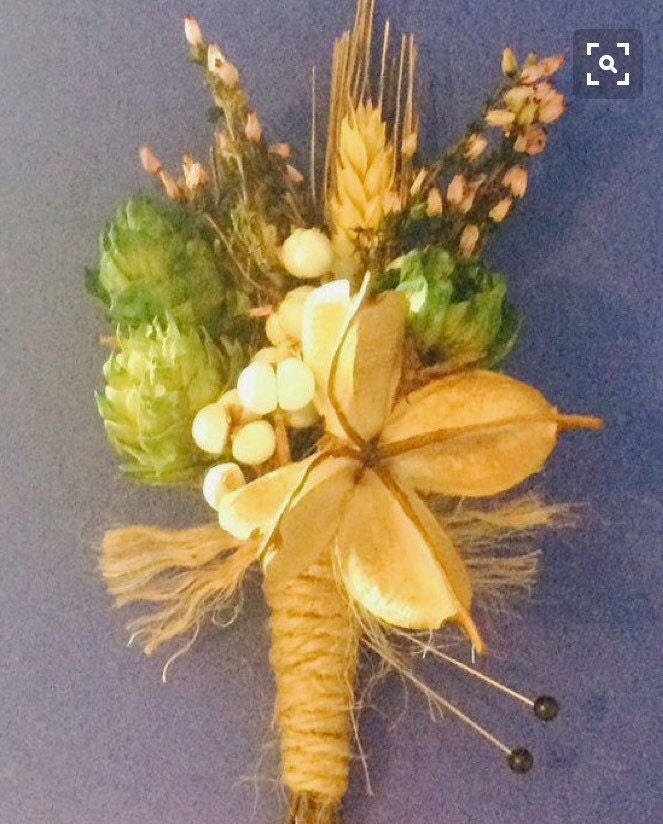 You may order any style regular $14.00 boutonnieres for a discounted price of $75.00. And a discounted shipping charge.
Payments
Paypal & Etsy gift card
Shipping from United States
buyers choice- available: USPS, UPS, Fed-ex
Refunds
100% guaranteed. Any problems handled immediately.
Additional
I have had a cotton boll boutonniere featured in Southern Weddings Magazine V3. I was a featured Christmas jewelry artist at 7 Nordstroms stores in the Northwest for 5 years. I have had a bouquet choosen and written up on U-Bloom a trade website for florists. I have also worked in visual display & retail sales @ a few major department stores.
These are boutonnieres are perfect and just as described! You can tell that they're created with the highest standards and attention to detail. I was worried that since the flowers/hops were dried they would be falling apart and disintegrating when jostled, but they are soft and feel very sturdy -- I can tell they'll last a long time. All in all, wonderful communication with Ellen and fast shipping as well! Couldn't be happier with these pieces!!
These arrived today and they are SPECTACULAR!!!!!! She worked to custom create these boutonnieres based upon my wedding theme and went through several makeups to get them just perfect! Couldn't have asked for better quality and craftsmanship. Recommended 110%!